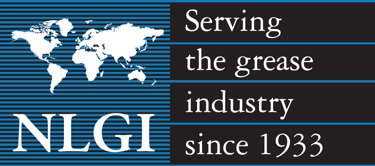 The NLGI admits KAJO GmbH as a member
With KAJO's growing presence in the North American lubricants market, we have decided to join the grease industry's premier association.
We thank the Membership Committee for accepting us into this unique industry association.

The National Lubricating Grease Institute – founded in 1933 in the USA – is a network of grease manufacturers and distributors, equipment manufacturers, industry suppliers, service organisations, research and educational institutions.


We are looking forward to the opportunity to use the unique network to contribute our know-how in grease development and grease production. We hope to be inspired by new ideas and product innovations.


For many years, KAJO has already been involved as a member of the VSI – the Association of the German Lubricant Industry and the ELGI – the European sister organisation of the North American NLGI.

KAJO Bio Products – A complete product line for wire ropes is now available.
Protection and lubrication, inside and outside – Two technologies covering the whole life cycle of wire ropes.
We are excited about the upcoming opportunities made available through being able to provide an all-round solution for the lubrication of wire ropes, from the production, through to out in the field.

Our internal wire rope lubricants, designed to be used during the construction of wire ropes, can be implemented into your existing production process methods. We are proud to say that have achieved this through the use of raw materials based on renewable content higher than 70%.


To support the continued maintenance of wire ropes we are also able to offer a range of suitable products compatible with industry standard relubrication equipment in the field. Talk to us on how our all-round solution could help achieve your carbon footprint reduction goals.

KAJO Bio Products – A complete product line for the construction industry is now available.
A unique combination of performance, environmental protection & sustainability
For several decades, biodegradable lubricants have been subject to trade-offs between environmental protection and performance.
We as KAJO have focused our research and development activities on this very area to resolve this negative tension.

Now we can report that we are ready for such a demanding industry as construction.
Any moving part outside the engine can be lubricated with one of our bioproducts without any performance degradation compared to its mineral oil-based complementary product – which, by the way, is also included in our portfolio.


Our bioproducts therefore meet both environmental and performance requirements.
Because they are formulated based on natural and renewable raw materials, they can make a significant contribution to reducing the carbon footprint during the usage phase of your mobile equipment.

Completion Apprenticeships
It is always a great pleasure and makes us proud when young people can be given a start in their professional lives with an apprenticeship.

Ms. Alice-Marie Teske successfully completed her training as an industrial clerk plus additional training as a European clerk after only 2 ½ years. The training manager Mr. Berkenbusch and the purchasing department with Mr. Peter Korditzke (picture left) are pleased about the future support by Mrs. Alice-Marie Teske.

Mr. Robin Gerling also very successfully completed his training as an industrial mechanic.
The training manager Mr. Brune and the engineering department with Mr. Christoph Lauer (picture on the right) are pleased about the future
support from Mr. Robin Gerling.

Stone festival 2022
After a three-year break because of Corona, the Anröchter Steinfest (Stone Festival) could take place again.
Here all local companies had the chance present their products.
More than 100 exhibitors, associations and institutions attracted thousands of interested visitors in the best weather. Our goal this year was to give visitors an insight into the world of biodegradable products. The interest in the products was further supported by the main prizes at the wheel of fortune, here the visitors could win two of our many products:
KAJO-BIO-Langzeitfett LZR 2
KAJO-BIO-Sägekettenhaftöl BIO 2050
We delighted our small guests with balloons that could be seen glowing as blue dots all over the festival grounds. We would like to thank all those responsible, those involved, our team and the numerous visitors for the successful festival. In the spirit of the environment, we will gladly participate again in 2024.
Expansion of quality management system to include environmental management
At the beginning of 2022, the KAJO group of companies has successfully been certified according to DIN EN ISO 14001. Thus, the already existing quality management system, certified according to DIN EN ISO 9001, was extended by the environmental management system. With this, we want to think about the world of tomorrow – the promotion of environmental protection, as well as the reduction of environmental pollution and, above all, compliance with the applicable environmental requirements are the focus. The certificates are available for download on the Environmental policy section of our website.

KAJO GmbH awarded with KLIMASICHER certificate!
The Environmental management team successfully participated in the KLIMASICHER pilot project of the district of Soest. In addition to site-related analyses and consulting, suitable adaptation strategies and measures against climate change impacts were developed to reduce the risks for the future. KAJO GmbH is now allowed to call itself KLIMASICHER (Climate Safe) and thus ensures the sustainable productivity and competitiveness of the company.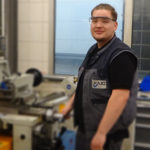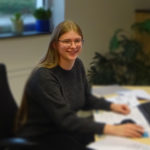 Trainees starting in 2020
Another proud moment for this year is to introduce and welcome our new trainees to the KAJO-Team. Alice started the training program for an Industrial Management Assistant and Vladimir for a Industrial Mechanic. They follow the long tradition in KAJO training tomorrows industry professionals.
History
Founded in 1976, our medium-sized company still is managed by the owners – already in the second generation. Constant growth due to a successful mixture of tradition an innovation: on more than 57,500 m2 a team exceeding 100 provides reliable quality. Global sales are supported by 4 subsidairies in Austria, France, South Africa and New Zealand.
We support you as your partner for lubricants: We offer lubricating greases and lubricating oils for a variety of applications. As we pay special attention to the protection of the environment as well as to sustainability, our product range includes numerous products which are readily biodegradalbe and certified with the Blue Angel and / or the European Ecolabel.



KAJO GmbH
Boschstraße 13
D-59609 Anröchte
Tel: +49 (0) 29 47 / 8 81 – 0
Fax: +49 (0) 29 47 / 8 81 – 120
schmierstoffe@kajo.de